Posted by Ryan Morgan on November 26, 2014 at 9:00 AM
When I grow up, I want to be a Millennial.
I mean, arguably I'm a Millennial (the generation born between the early 1980s-early 2000).  But to be honest, I lack the je ne sais quoi of this generation. 
What is it exactly? There's an indefinable exuberance, irreverence, confidence and conviction when it comes to social justice.  Did you know that 56% of Millennials volunteer and 75% donate to charities?
I mean, this is the generation of Beyoncé voters.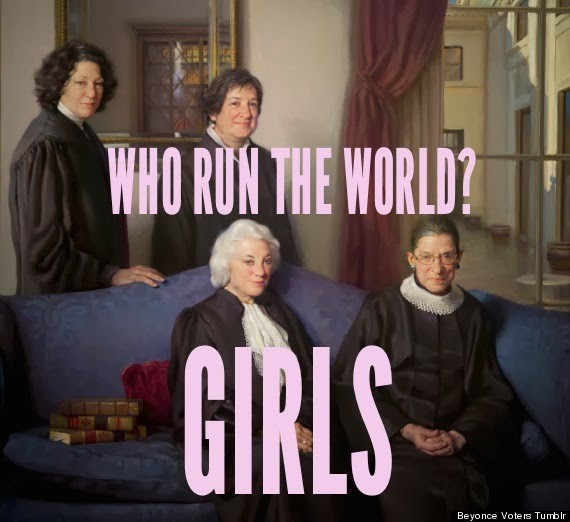 This is the generation that gave us the Notorious R.B.G. tumblr.
And this is the generation that streams into our office each semester to volunteer, stand up for their rights, and make a difference in the lives of others.
Exhibit A: Service-Learning Students.
Without the dogged determination of these ladies, we wouldn't have been able to distribute thousands of PEOPLE before POLITICS bumper sticker (if you haven't gotten one, email me your snail mail address!)
Exhibit B: Delta Sigma Pi.
This business fraternity—of both young men and women—are the future business leaders of South Carolina and they know their facts. I recently had the pleasure of speaking with them on topics ranging from the wage gap to sexual harassment in the workplace to the importance of birth control for women's professional careers.  It was truly inspiring talking with these students who are truly connecting the dots between economics, women's safety, family, and reproductive health for all.
Exhibit C: Bee Day.
Bee Day is an annual day of action where Tell Them advocates, both new and established, contact their legislators—either in person, over the phone, through email, or with social media—and insist their voices are heard on issues of reproductive health policy.
This year we're encouraging students from across the state to join us at Bee Day, in person, and confidently tell their lawmakers, face-to-face: "My health education is NOT political. Support medically accurate sex ed reforms."
Will you chip in this Giving Tuesday (December 2) and help make this dream a reality? A $25 will sponsor one student's transportation, training, and lunch for Bee Day.
Click here to make your pledge today.